Divi Theme and Divi Builder – Review and Features
Hello fellow readers! As a WordPress user and web professional since 2008, I'm always looking for WordPress templates to help you guys to create a WordPress website from A to Z (without giving you too many headachs). The Divi theme is one of these templates. Here's my review of the theme and the features of it. Enjoy!
What's new in version 4.0 of the Divi theme?
Unlike the previous versions of Divi (2.0 and 3.0), Divi 4.0 integrates an all-new visual interface that radically changes the way you build your websites. The Divi theme is driven by the Divi Builder, which is located on the frontend of the website so that your modifications to the website visuals are performed live in real time! For example, you can simply click on a paragraph and start typing your text. It's a super-efficient way to create and modify your webpages, as you won't have to constantly press the Preview button to see your creations, then return to the editor, then click on Preview again, etc.
One of the new features in Divi 4.0 allows you to incorporate dynamic content in your pages, blog posts, WooCommerce, etc. If you want to, you can create and choose a different header or footer individually from page to page, which gives you much more powerful control over the types of content you can add in your various sections. Another improvement is that you're no longer limited to Divi's prefabricated headers. You can now use the Divi Builder to create your headers and footers.
Yet another improvement is the ease with which you can create product page templates for a WooCommerce online store, including all of the relevant functions: prices, sliders, related products, descriptions, product variations, reviews, etc.
You can now also create pages with archives of categories, tags, custom post types and more with different layouts. This is very useful for indexing when you want to add a customized text for a particular category at the top of the page before listing the posts that fall under that category. It's even possible to personalize your loop for these types of pages. It's a feature that will be greatly appreciated by developers. Creating a custom 404 error page is now child's play!
In terms of demos, Divi has gone from 20 different templates in version 3.0 to 100 in version 4.0, with more than 800 prefabricated designs for creating a WordPress website.
Divi Includes 100+ WordPress Website Templates You Can Import
Divi now comes with more than 100 elegant and varied website templates. Within these 100 templates, you'll have access to more than 800 different page designs. These templates will save you a huge amount of time in the creation of your various website projects. You can import them and modify their content directly from the frontend.
Search Templates by Website Type
Art/designeCommerceOrganizations and communityEducationBusinessEventTechnologyFashion/beautyRestaurant/foodSport/healthServicesMinimalistAll templates
Making visual modifications from the frontend with the Divi Builder?
Some examples of things you can do include underlining part of the text and changing the typeface and color. You can reposition elements, adjust margins and heights, add new features and content blocks from a module containing more than 40 different items, and much more. All of the changes are made live with no time delay at all! You don't have to reload or refresh the page to update it with your changes. You also don't need to use the WordPress Preview tool anymore.
Of course, this feature was already available in the Visual Composer extension. The big difference in the Divi Builder lies in the rapidity and effectiveness of the tool. Especially in the new 4.0 version.
It's nearly impossible to compare the two tools. The difference is like night and day!
Each element is fully customizable. You can adjust the fonts, colors, sizes and spacing. You can even add your own CSS code.
46 content elements and featured et de fonctionnalités de contenu
Divi comes with 46 content elements enabling you to create just about anything you can imagine:
Accordion menus
Audio players
Bar counters
Blogs
Blurbs
Buttons
Calls to action
Circular counters
Code modules
Comment modules
Contact forms
Countdown timers
Dividers
Email opt-ins
Filterable portfolios
Galleries
Headers
Images
Numerical counters
People (team members)
Portfolios
Post navigation
Post sliders
Post titles
Pricing tables
Searches
Shops (eCommerce)
Sidebars
Sliders
Social media (Follow, Share)
Tabs
Testimonials
Texts
Toggles
Video sliders
Videos
Divi Featured in Action
Fonts and typeface
Choose from hundreds of different typefaces or load your own. You can modify the style (bold, italic, etc.), modify the spacing between letters and lines, personalize the size of your texts, titles, links, paragraphs and quotes, and much more.

Little or no loading necessary
The Divi Builder is incredibly quick. The most drastic, revolutionary feature is that you don't need to reload your pages when making modifications. Designers and developers love it!
Just click and modify!
You don't have to open the Settings panel to add new content. Just click on your page and start making your changes!

Modifying the responsive design of a website
Take advantage of the responsive preview and apply your custom changes to different mobile breakpoints.

Animation
It's easy to animate almost any element. Just use the preconfigured animations as the basis for creating your own by modifying the speed, animation type, direction and opacity.

Filters and effects
You can easily adjust the visual aspect of any type of element by using the filters and effects, which allow you to adjust the hue, saturation, brightness, contrast, sharpness, opacity and more.

Copying and pasting styles
Wow! Personally, I've never seen this feature in any other theme. It's enough to make its competitors jealous! You can easily and efficiently copy and paste visual styles from one element to another.

Support for email marketing tools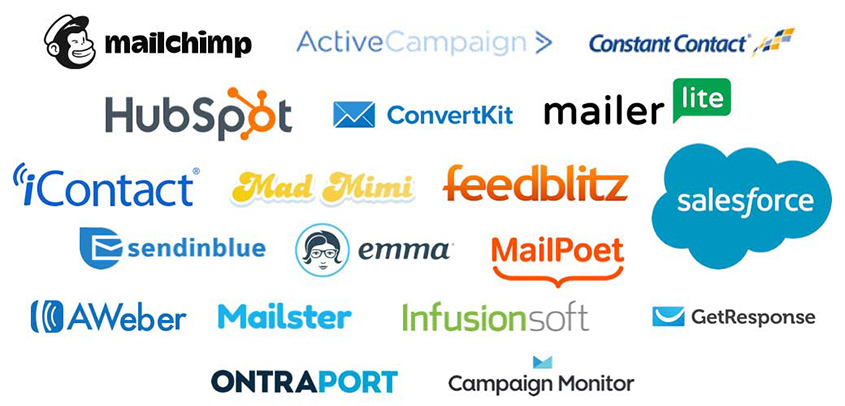 Creating online marketing tools like conversion forms for newsletters is easy with Divi. It supports all the most popular providers: Mailchimp, ActiveCampaign, Constant Contact, HubSpot, ConvertKit, MailerLite, iContact, etc.
Organize with ease
Add new rows and choose from several different column types. Everything will be harmonized perfectly and automatically.
Importing and exporting
Save your page templates to your library so you can use them later in other sections. Import, export, share and download other templates on the internet.
100 website templates
You can get your project up and running quickly and effectively using one of 100 different website templates designed with the Divi Builder included in Divi 4.0.
Divi is Available in More than 32 Different Languages
Millions of pages have been created using Divi, and ElegantThemes has more than 650,000 clients throughout the world. The team has adapted the theme into more than 32 different languages, including the following:
Arabic
Bulgarian
Czech
Danish
Dutch
English
French
German
Greek
Hebrew
Hungarian
Indonesian
Italian
Japanese
Korean
Malay
Mandarin
Norwegian
Polish
Portuguese
Romanian
Russian
Serbian
Slovak
Spanish
Swedish
Tagalog
Thai
Turkish
Ukrainian
Vietnamese
Are you ready to give it a go?
Explore one of the most powerful and popular themes currently available on the internet—complete with its own page builder!