Top 30 WordPress themes for personal blogs in 2020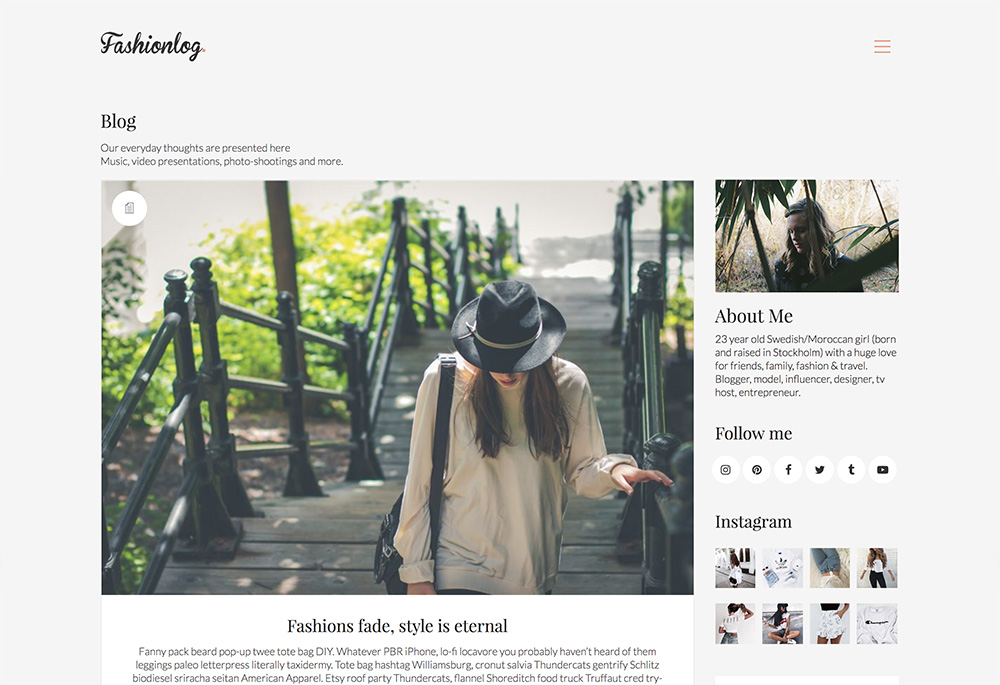 We've compiled a list of the top 30 WordPress themes for creating a personal blogs in 2020!
WordPress is the preferred blogging platform, thanks to its versatility and powerful features. WordPress websites are easy to customize and offer all the flexibility you need to create all types of online blogs. When looking for your ideal WordPress theme, base your choice on the visual style of the template, as well as the features the theme offers.
In 2020, more and more theme developers kept in mind the key role that load time plays in the user experience and in search engine rankings. Especially for a blog! As a reader, I expect the page to load within a certain minimum amount of time; otherwise you'll lose me! Naturally, all of the themes appearing on this list are also adapted for mobile platforms like smartphones and tablets. It's non-negotiable in 2020… When you have to zoom in on a blog entry to read it on your mobile device, it's beyond discouraging!
Even though there are free WordPress themes available online, purchasing a premium WordPress theme for your blog will prove to be a very wise investment. You have no idea how much time you'll save and frustration you'll avoid by using a professional theme. Happy hunting!
Divi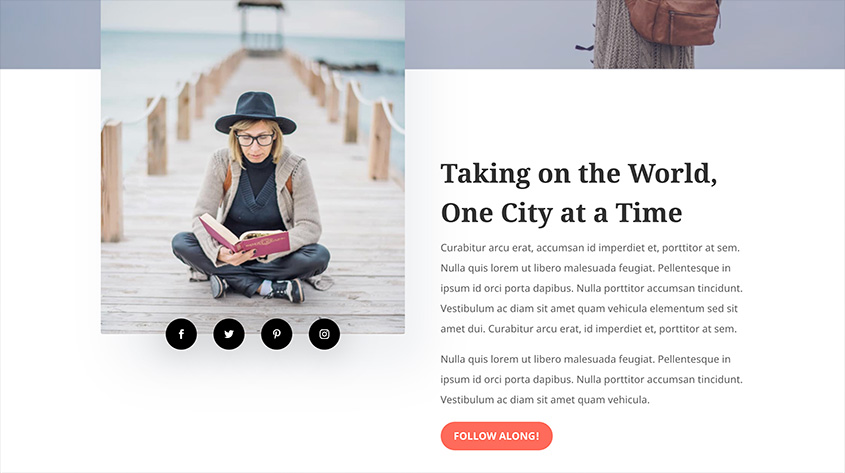 Divi is a versatile, multifaceted WordPress website theme that's visually spectacular and technologically innovative. The visuals are modern, structured and harmonious. Divi is adaptive, highly customizable, clean, streamlined, easy to read, pleasing to the eye and well-suited for social media, offering an intuitive browsing experience. It's a particularly flexible, malleable WordPress theme that was specially designed to meet the website development needs of small businesses. It's also very well-adapted for personal blogs. And let's not forget about the famous Divi Theme Builder!
More info / DownloadDemoWordPress Hosting
Journo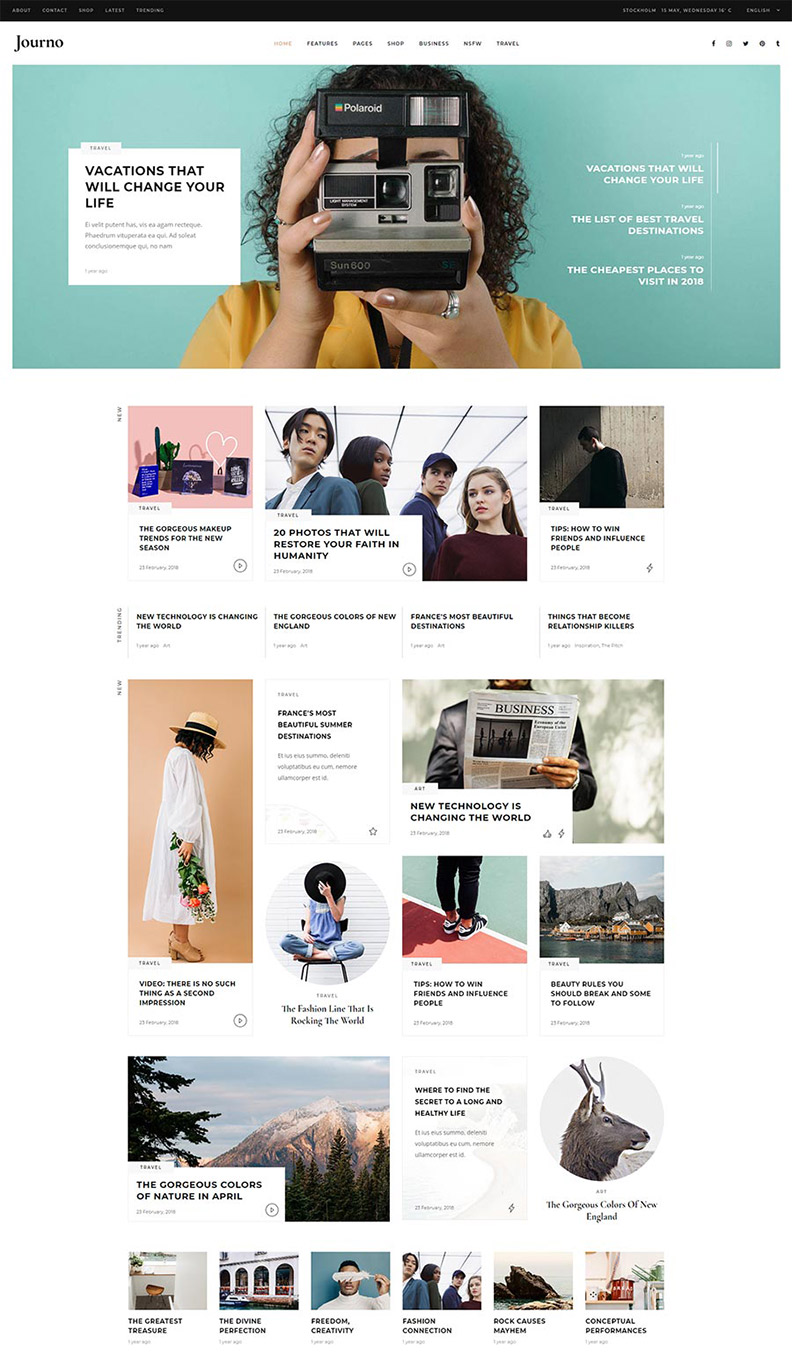 With the Journo theme from Qode Interactive, your words become supercharged. This theme is perfect for personal blogs, company blogs and magazine websites. It includes a vast array of personalization options, premium plugins and graphic interfaces. Endless possibilities all in one theme!
Key features include banners, WooCommerce, SVG icons, WPML compatibility, social network integration, popups for subscribing to newsletters, and a dozen layouts for blogs and sliders.
Journo is ideal for creative blogs, magazines and online publications and is a favorite of writers and journalists.
More info / DownloadDemoWordPress Hosting
Kalium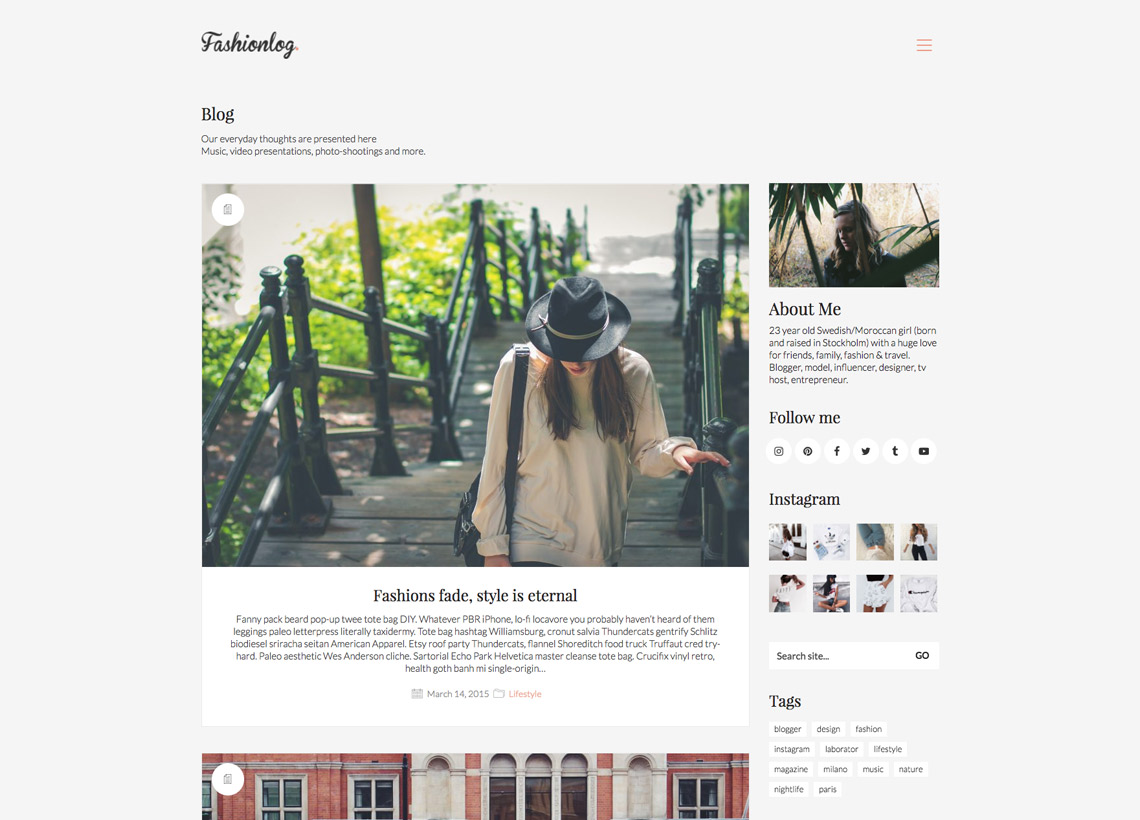 Kalium is one of the most elegant themes I've found so far on any of the websites that sell premium themes. The demos are stunning, the portfolios are breathtaking and the examples of personal blogs are all noteworthy! This theme should definitely be on your shortlist!
More info / DownloadDemoWordPress Hosting
Novablog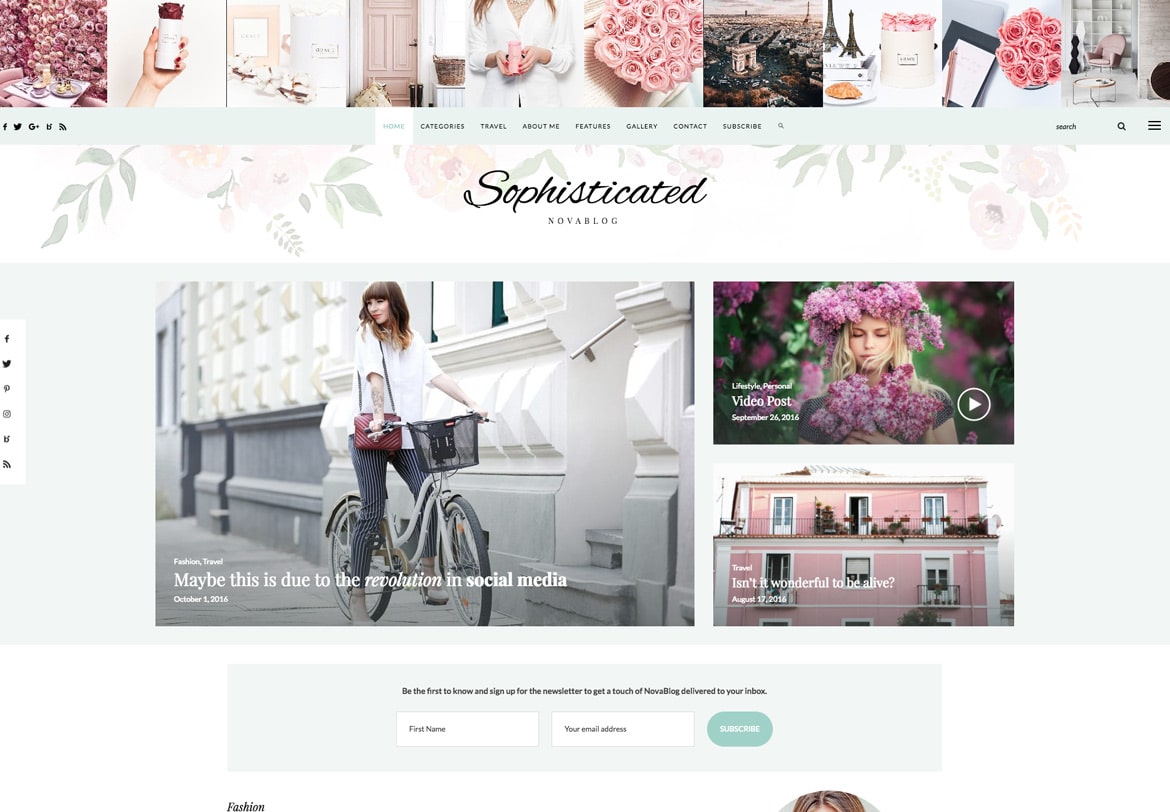 the image above isn't necessarily representative of the theme. Check out the demos, as the visual style varies drastically from one to the next.
Novablog is one of my favorite discoveries of 2020. If you're looking for a blog theme, regardless of the desired style, Novablog is an option you should seriously consider. It offers you 18 different interfaces adapted to every imaginable kind of blog or vlog (including cooking, luxury, news, lifestyle, travel, fashion, art and home decorating, among many others).
You can display image galleries in 1, 2, 3 or even 4 columns, show full-screen Instagram images, add an online registration page and much, much more!
More info / DownloadWordPress Hosting
Gillion Multi-Concept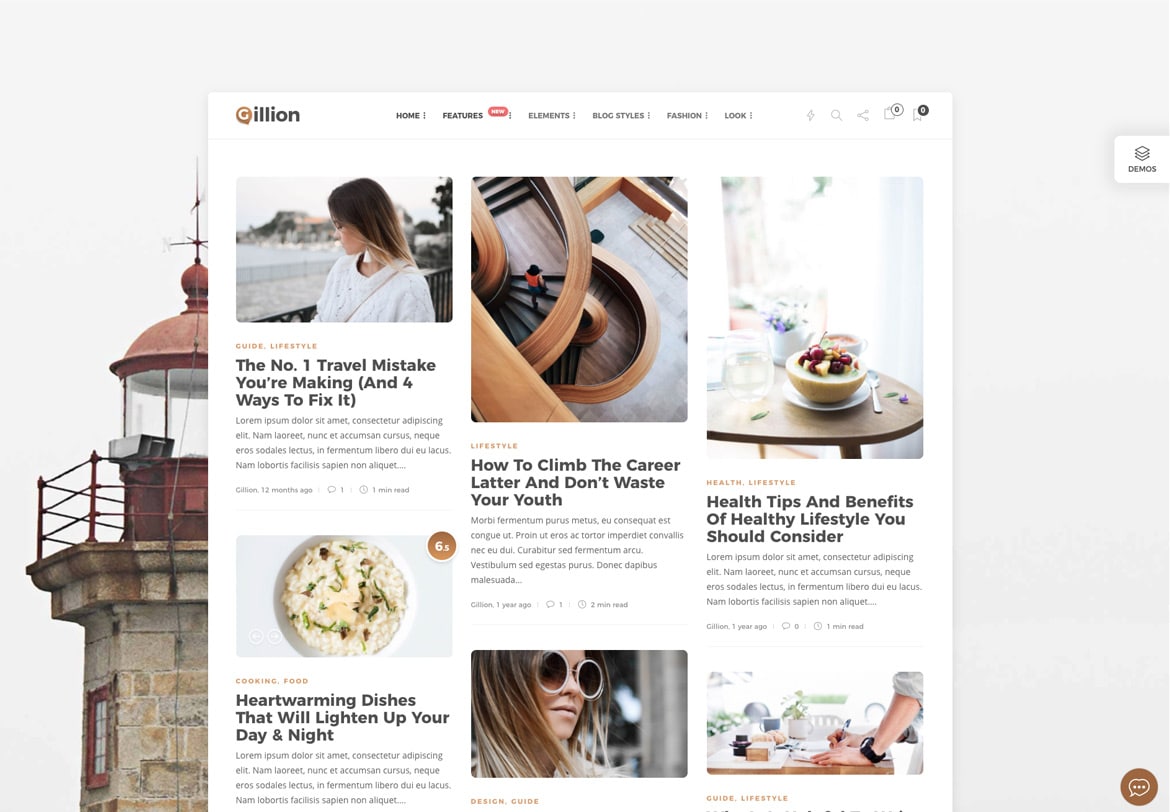 The strength of Gillion Multi-Concept lies in its elegance and simplicity. Unlike other themes, it isn't a builder that allows you to create dozens and dozens of different kinds of websites. But what Gillion does, it does incredibly well! It's an excellent template for a personal blog or an online magazine. The demos show you all of the possible modifications you can make to the content blocks. Last but not least, the model includes Visual Composer and Mailchimp for WordPress.
More info / DownloadWordPress Hosting
MagPlus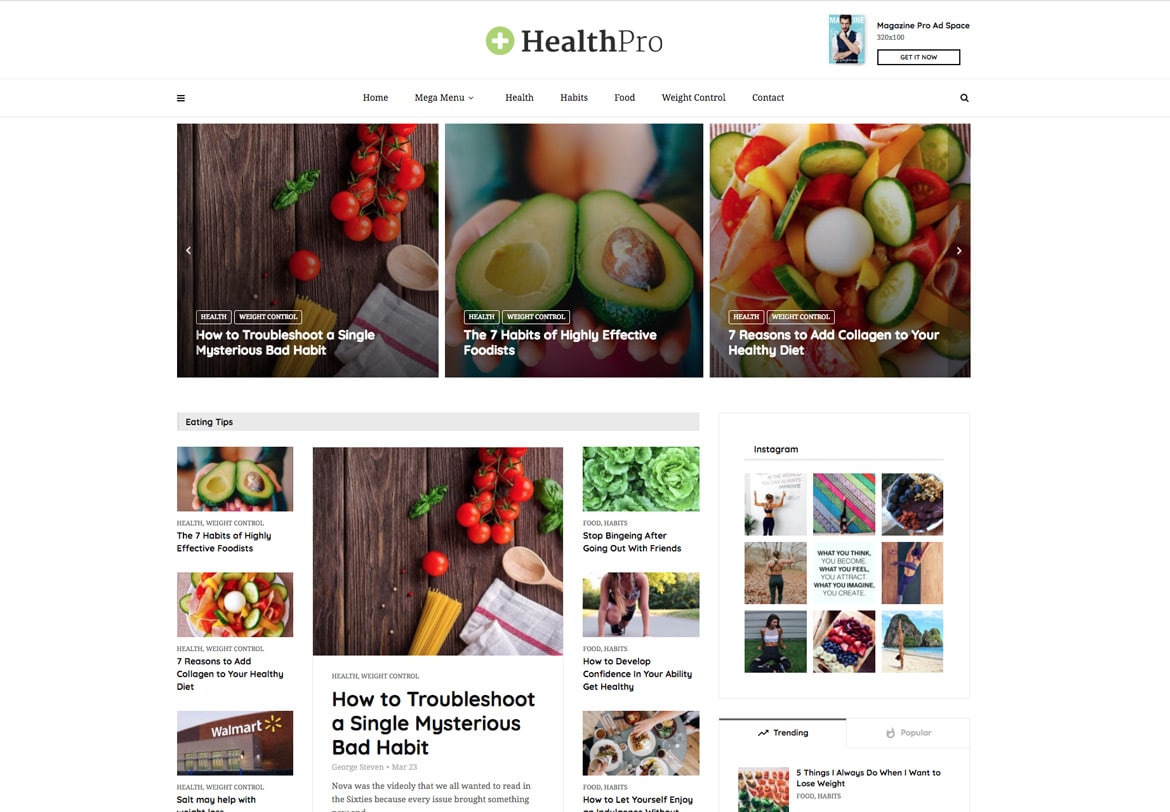 MagPlus is ideal for blogs of the online magazine type. It's an excellent option if you plan to create a website devoted to recipes, fashion, travel, sports or practically any other topic you'd like to write about. Don't let your imagination be limited by the image above. Instead, if you really want to understand all the possibilities, take a look at the 40 demos that come with the theme!
More info / DownloadWordPress Hosting
Rosemary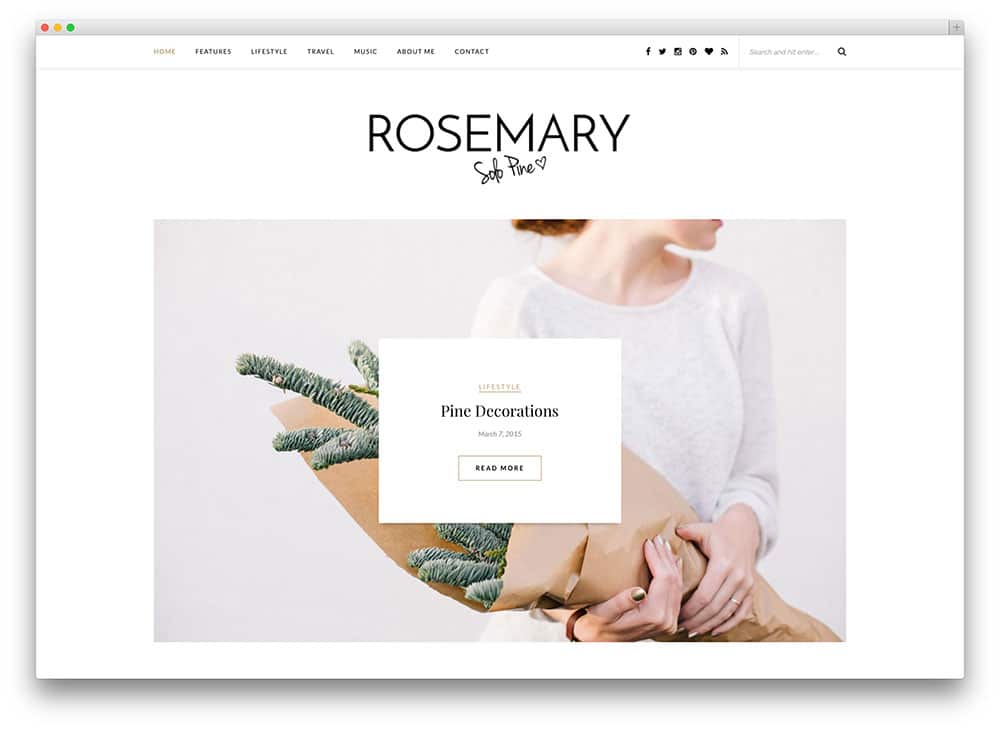 Rosemary is a high-quality WordPress theme. Perfectly suited for blogs, it has been designed to complement and improve your artistic content. It reaches the heights of elegance by way it its simplicity, balancing high performance and user friendliness. Going against the dark, gloomy tendencies found in some websites these days, Rosemary is clean and bright. It includes many popular characteristics like featured sliders and full-width Instagram areas at the foot of the page. It offers a wealth of options for layouts and posts. There's no doubt that this theme will leave a lasting impression on everyone who visits your page.
More info / DownloadWordPress Hosting
Typology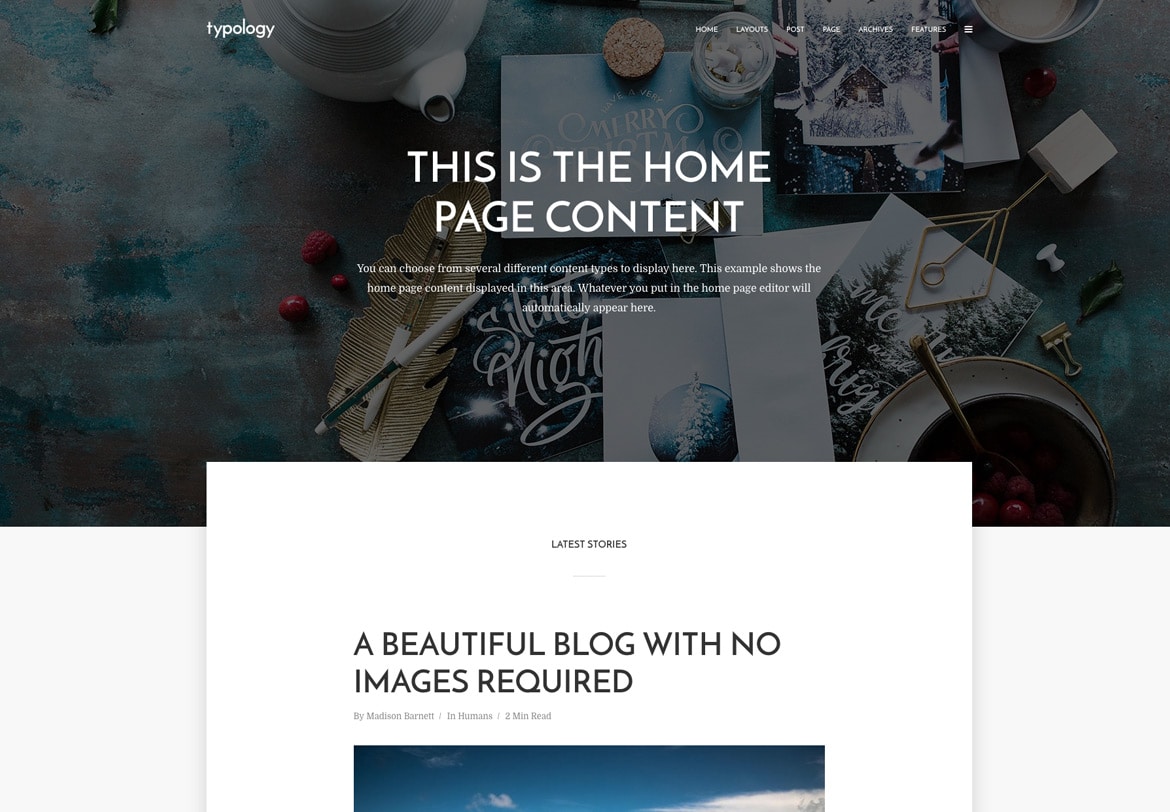 Typology is a theme aimed first and foremost at highlighting your content. The minimalist design is streamlined and elegant, drawing attention to your posts rather than to itself. Although there are no pictures in the first demo images, the theme allows you to integrate photographs in an elegant fashion. It's a website template that I highly recommend to writers and journalists or for any type of blog that's primarily focused on the writing.
More info / DownloadWordPress Hosting
Jannah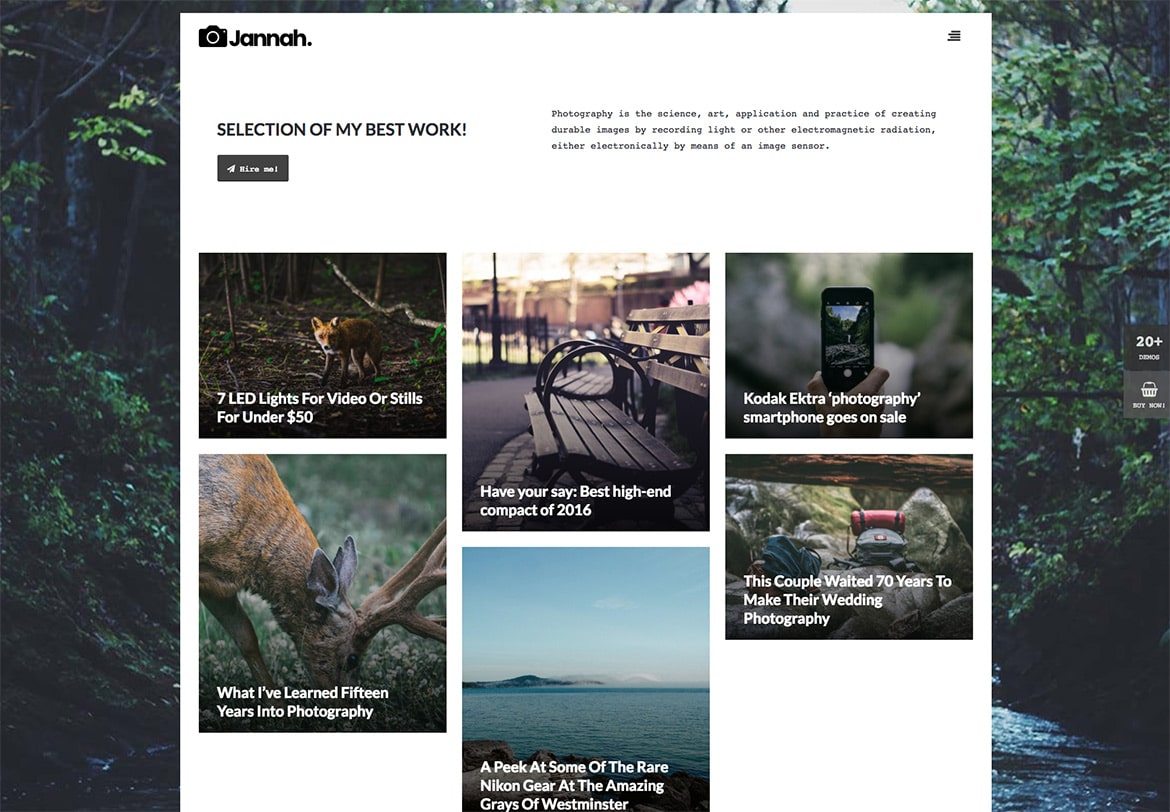 If you're searching for a theme that offers a variety of visuals for different kinds of blogs, Jannah is well worth a look. The diversity of styles found in the demos clearly demonstrates the versatility this template has to offer. And when it comes to features, you'll find everything you need for a personal blog, travel blog or photography blog.
One unique feature is the ability to add "sticky videos," which remain at the top of the page as the user scrolls down. Just like they do on Facebook! The responsive design is also well-integrated, making the pages pleasant and easy to browse on mobile platforms.
More info / DownloadWordPress Hosting
The League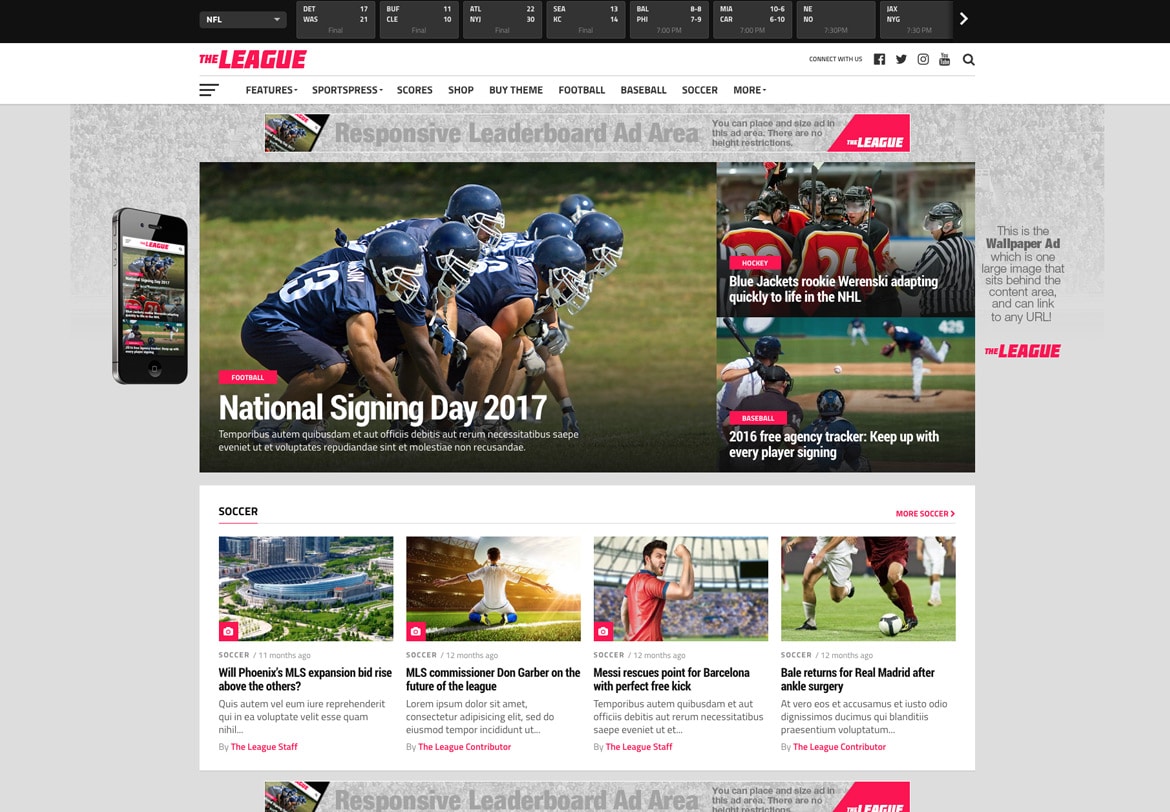 More info / DownloadWordPress Hosting
Kleo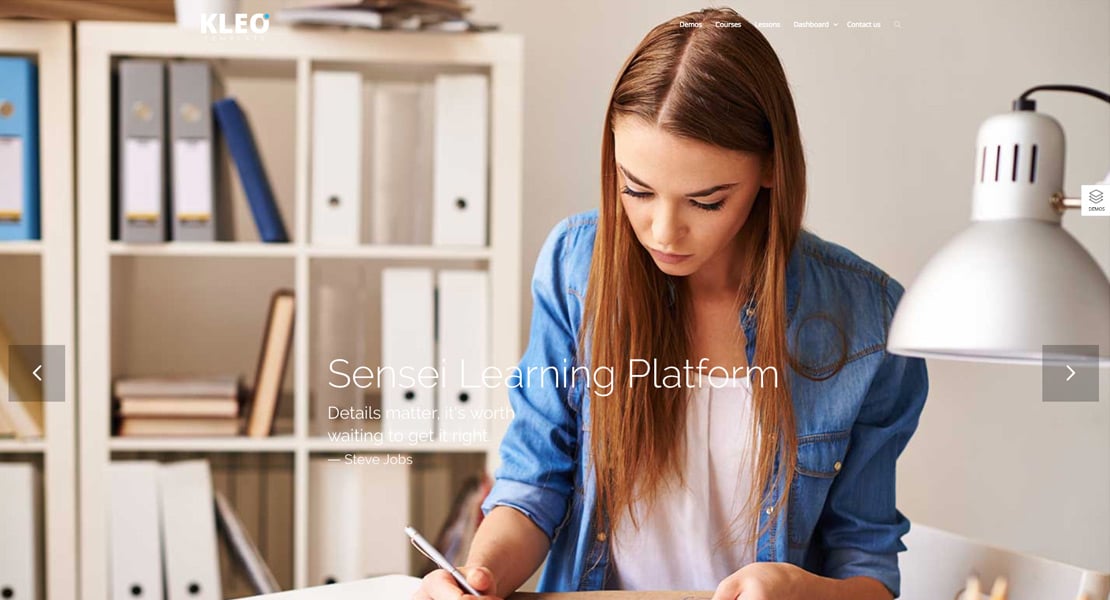 More info / DownloadWordPress Hosting
The Reader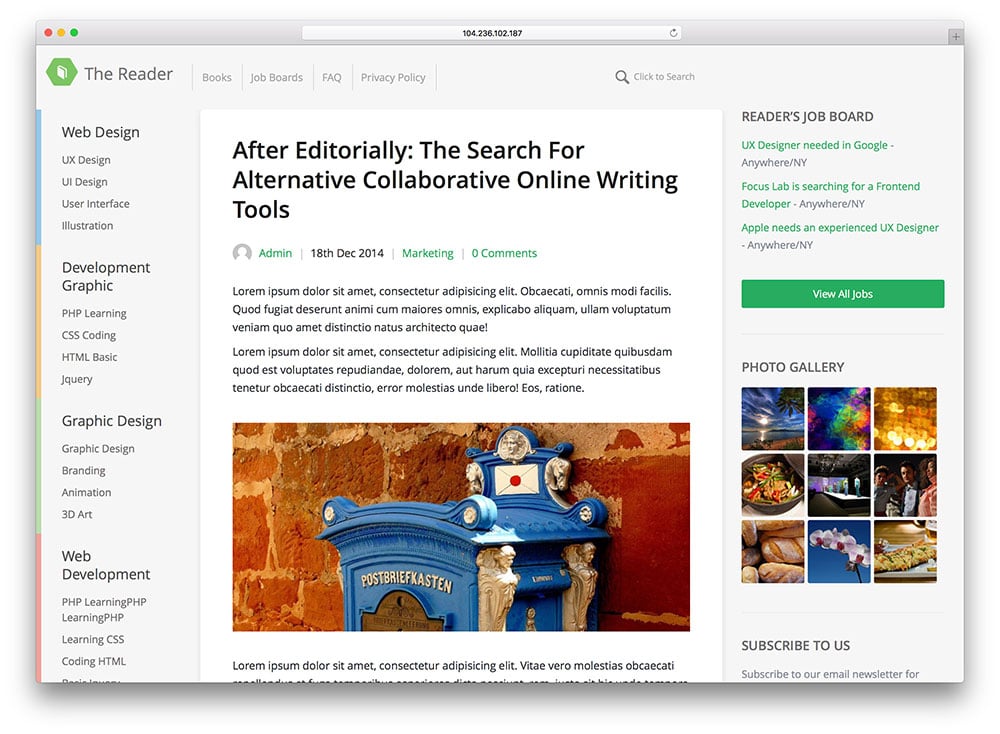 More info / DownloadWordPress Hosting
Viseo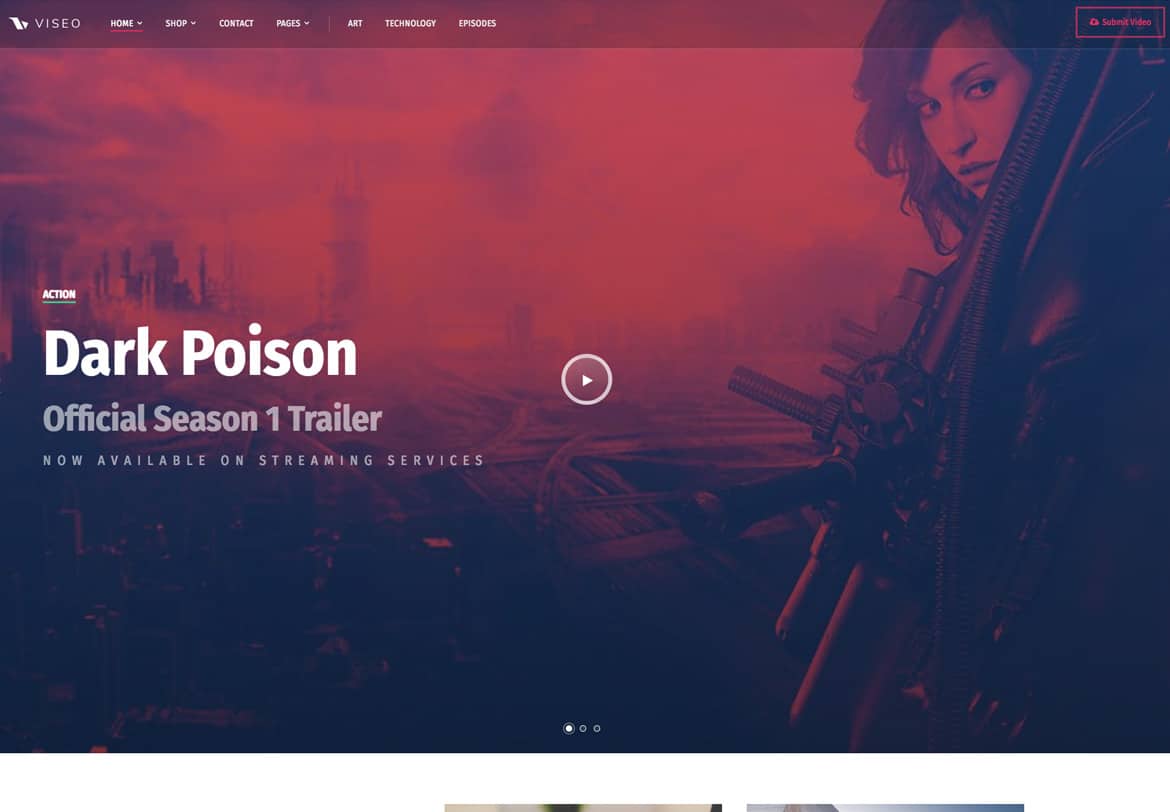 More info / DownloadWordPress Hosting
Brixton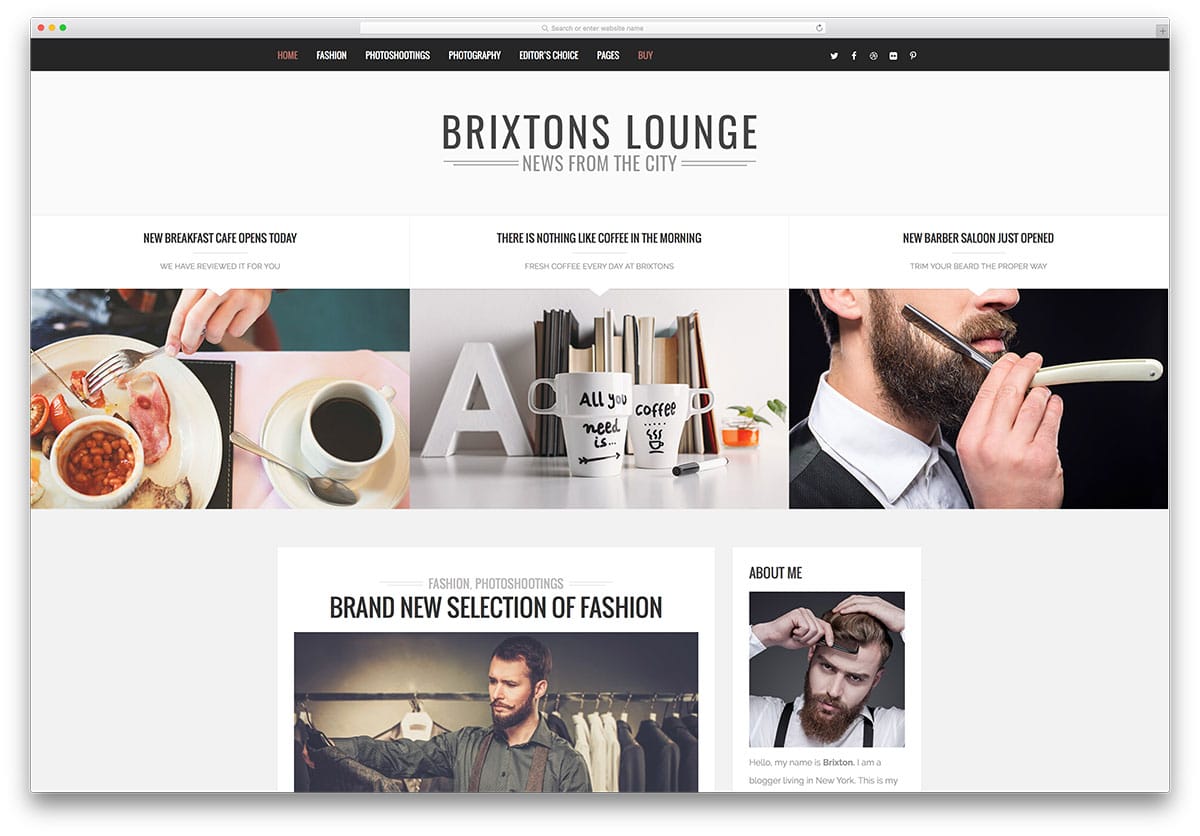 More info / DownloadWordPress Hosting
The Voux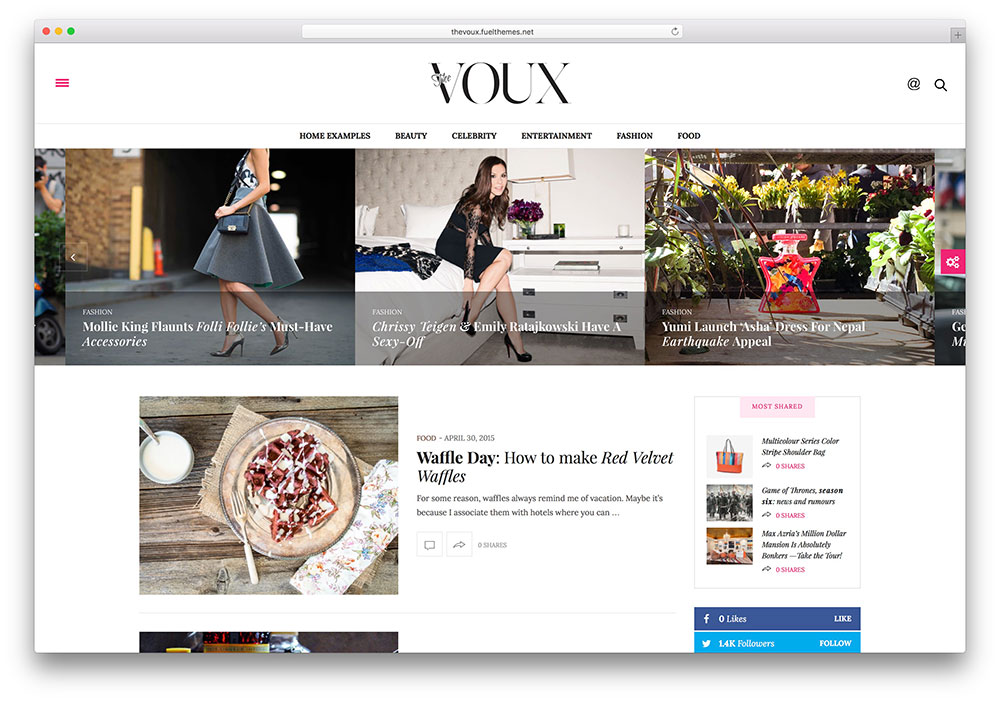 More info / DownloadWordPress Hosting
GraceUnderPressure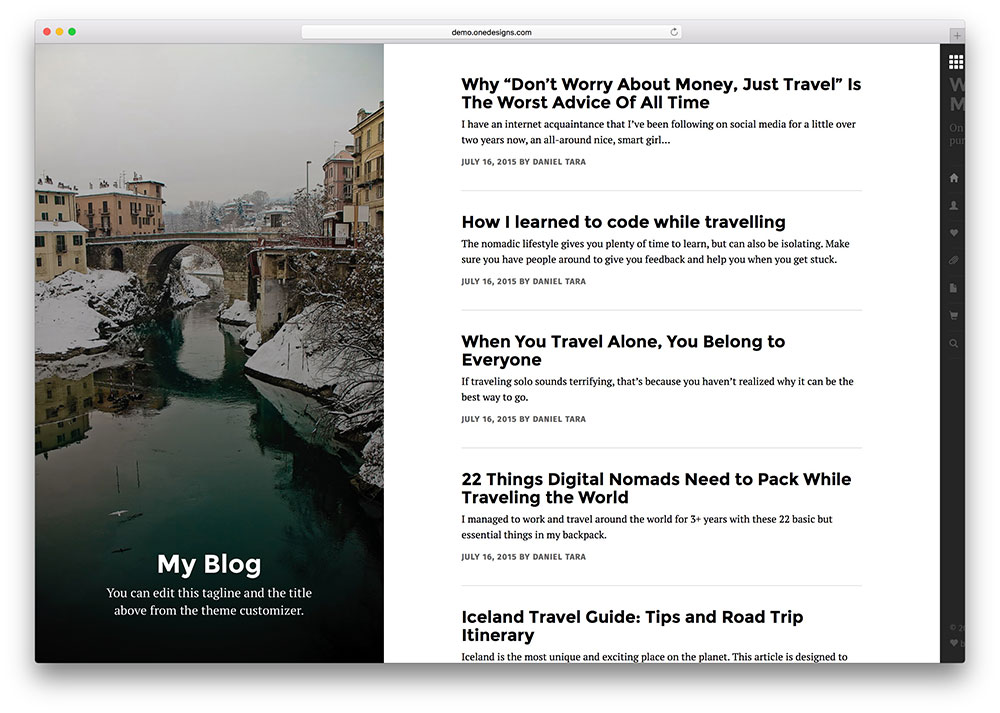 More info / DownloadWordPress Hosting
Ink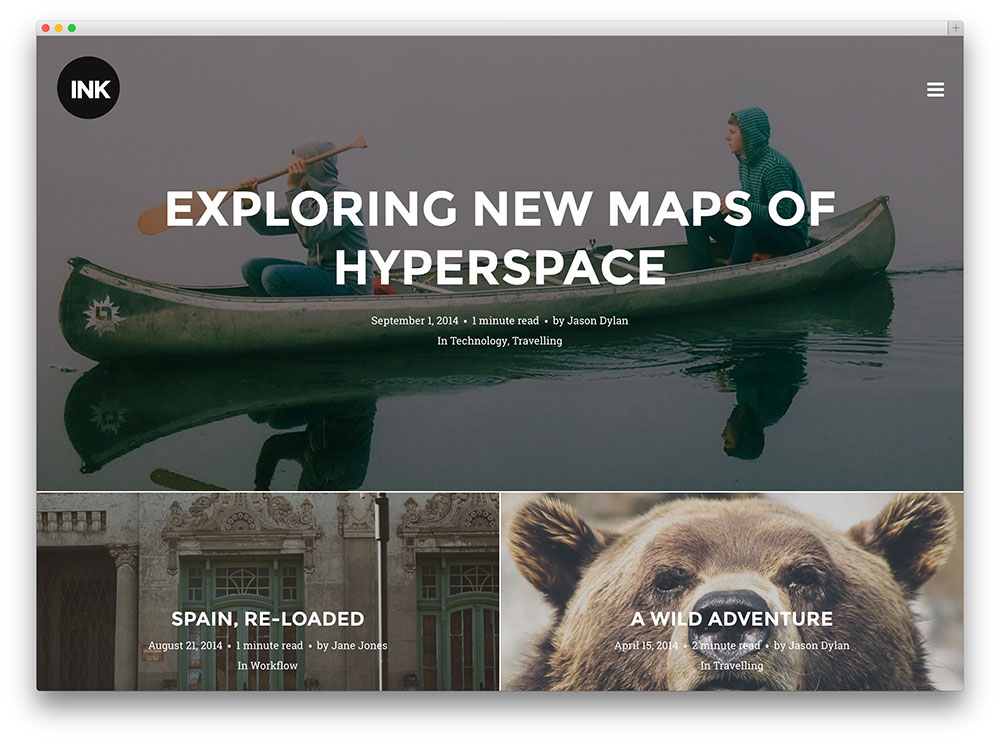 More info / DownloadWordPress Hosting
Piemont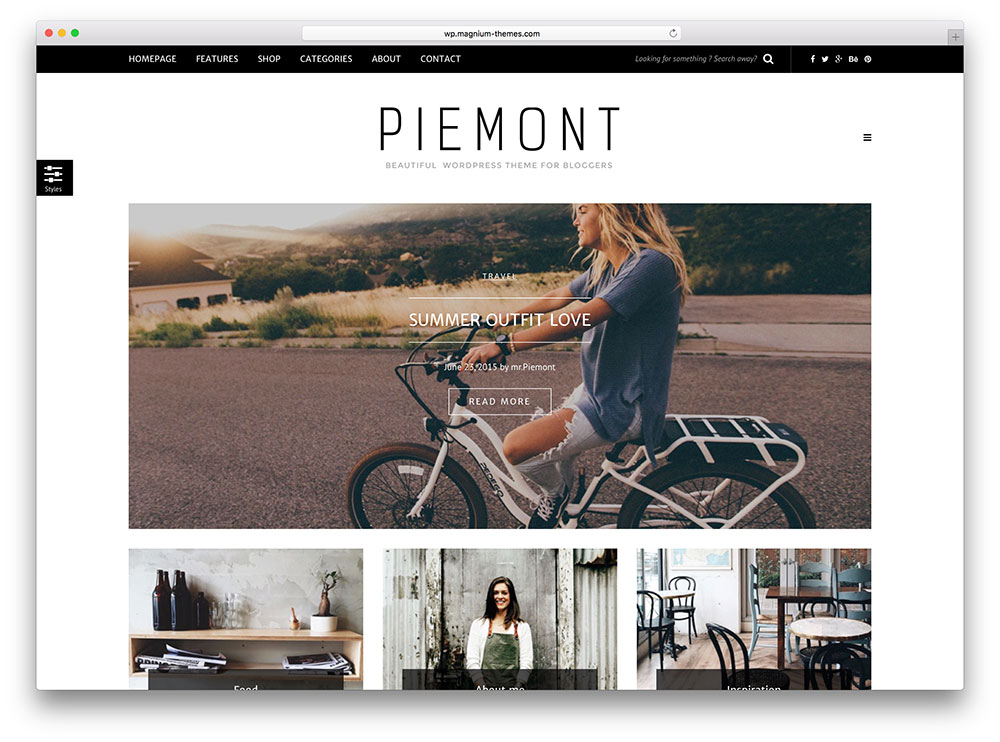 More info / DownloadWordPress Hosting
Himmelen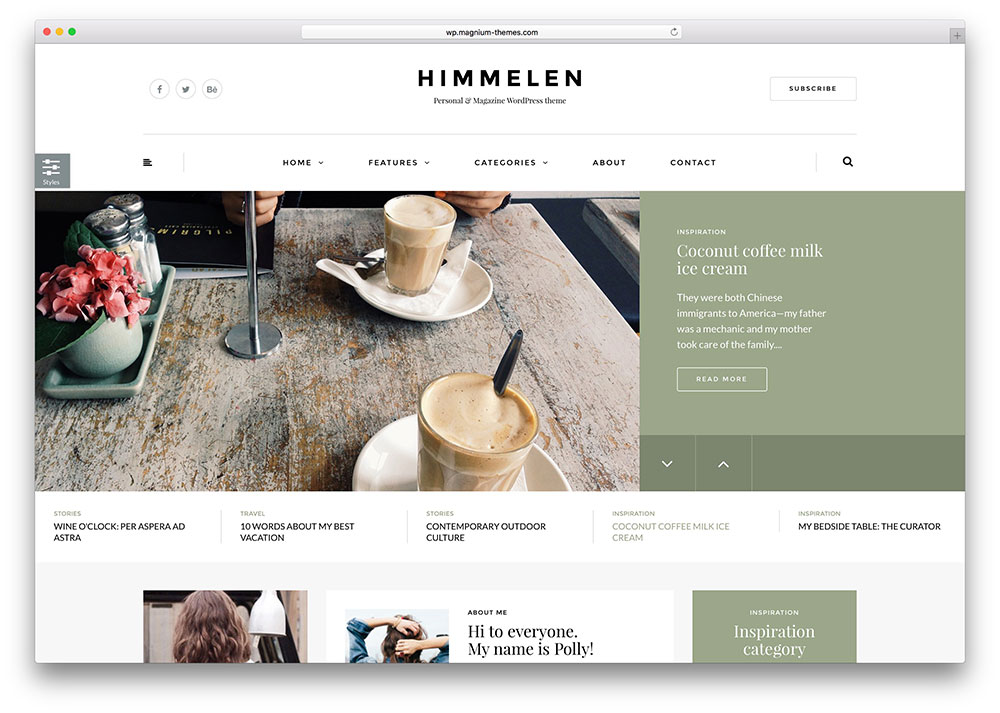 More info / DownloadWordPress Hosting
Writing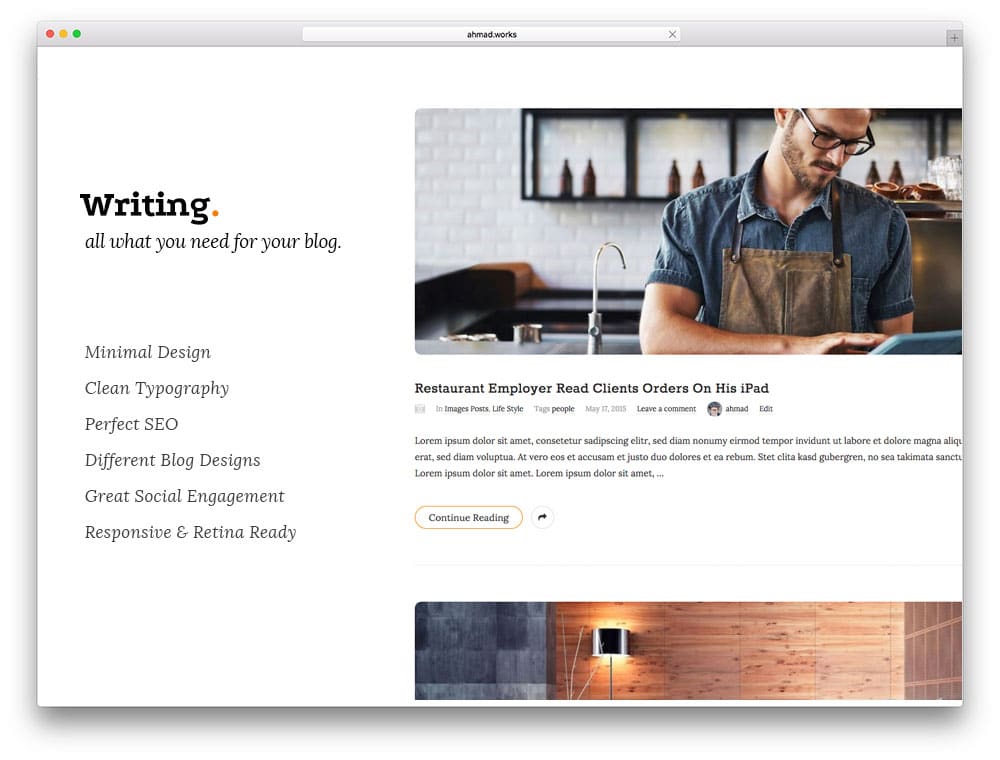 More info / DownloadWordPress Hosting
Tulip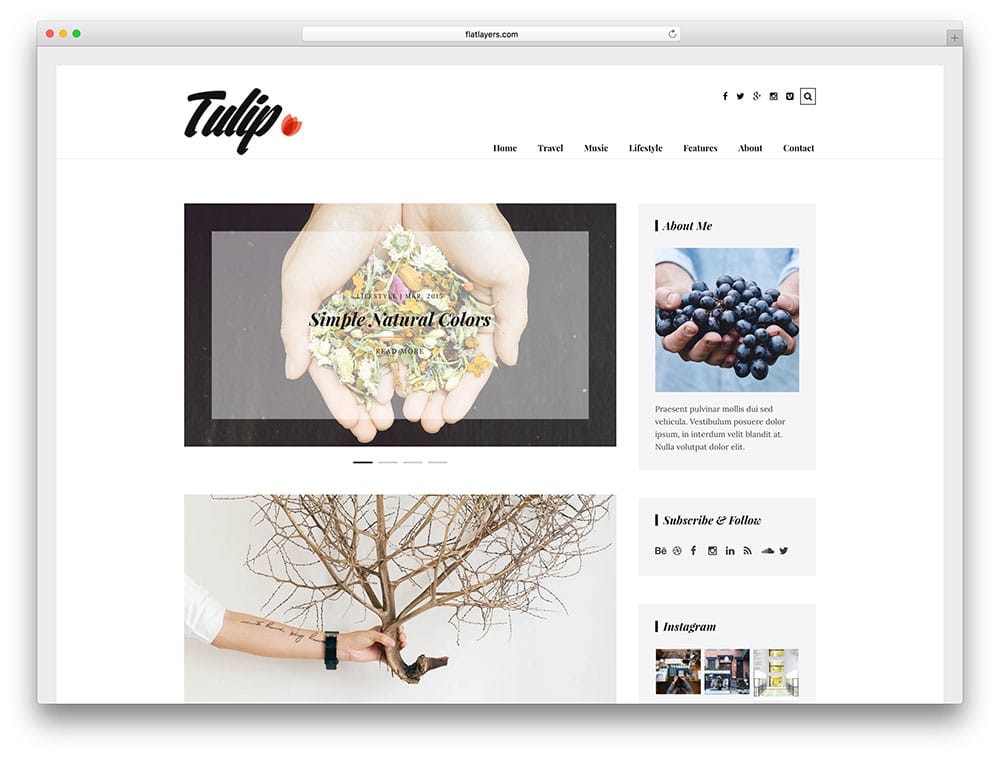 More info / DownloadWordPress Hosting
The Fox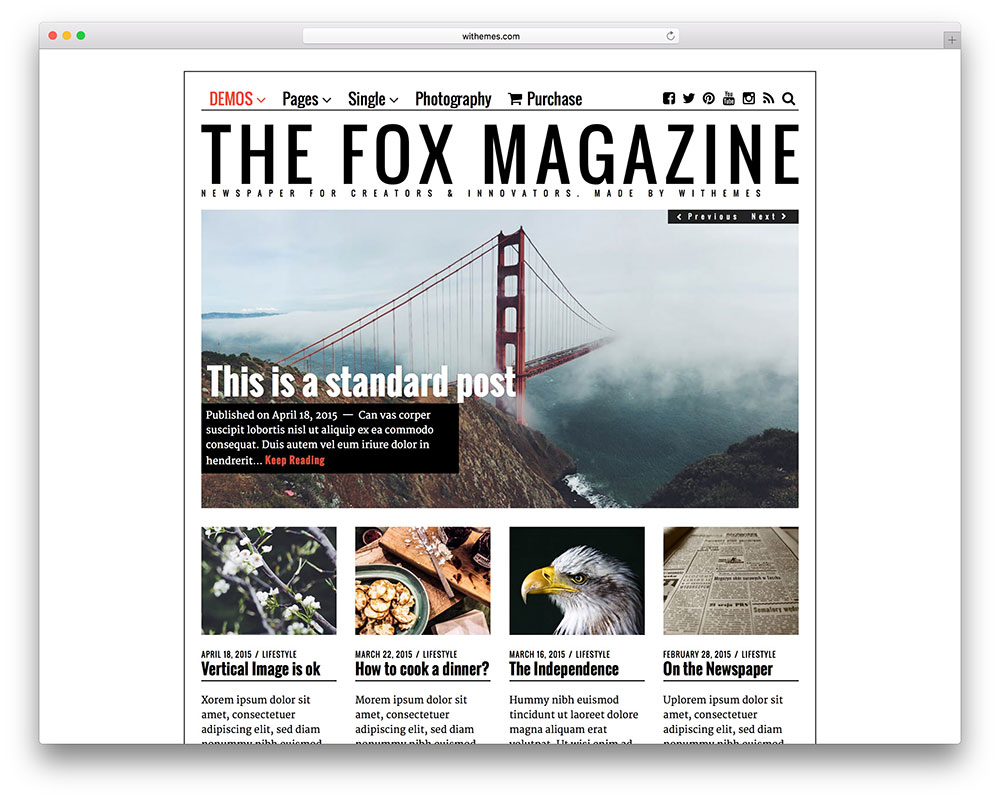 More info / DownloadWordPress Hosting
Uncode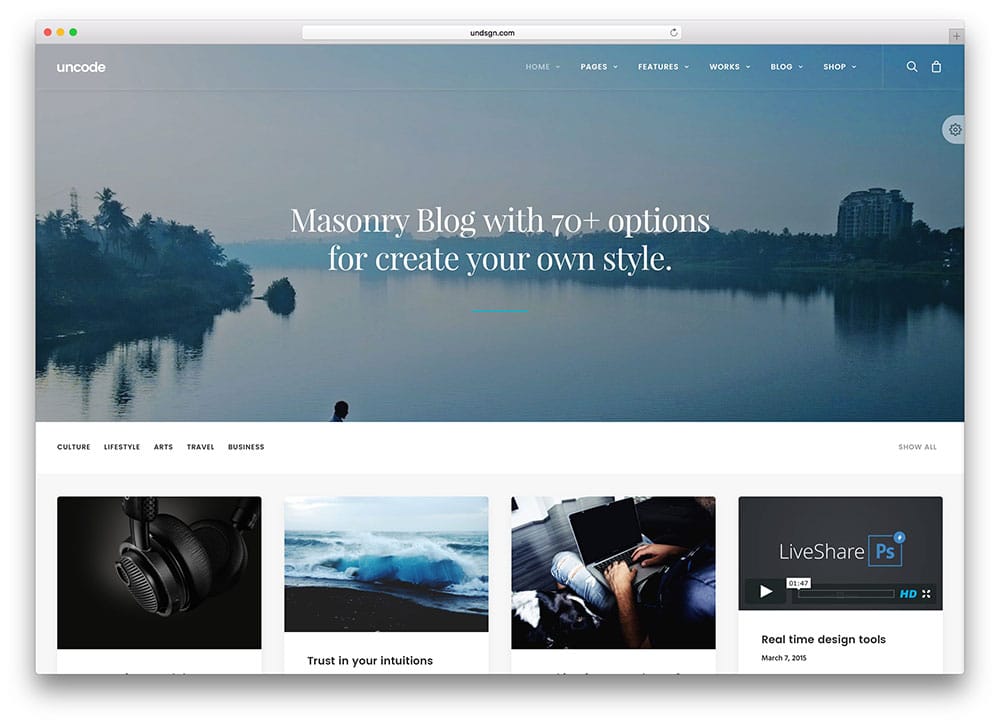 More info / DownloadWordPress Hosting
Webly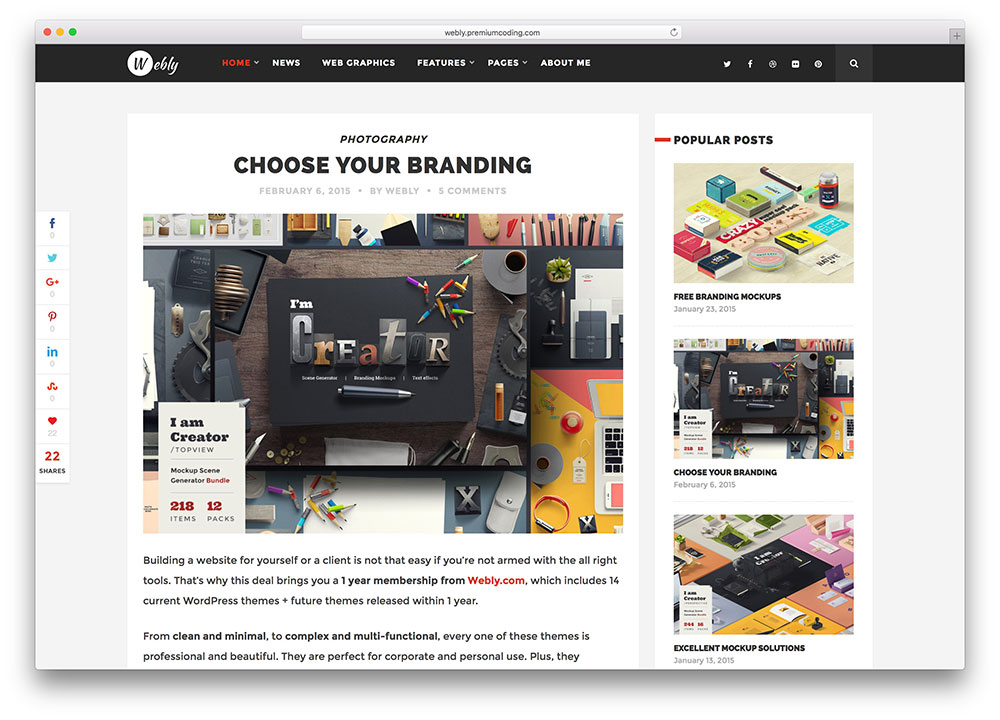 More info / DownloadWordPress Hosting
Crystal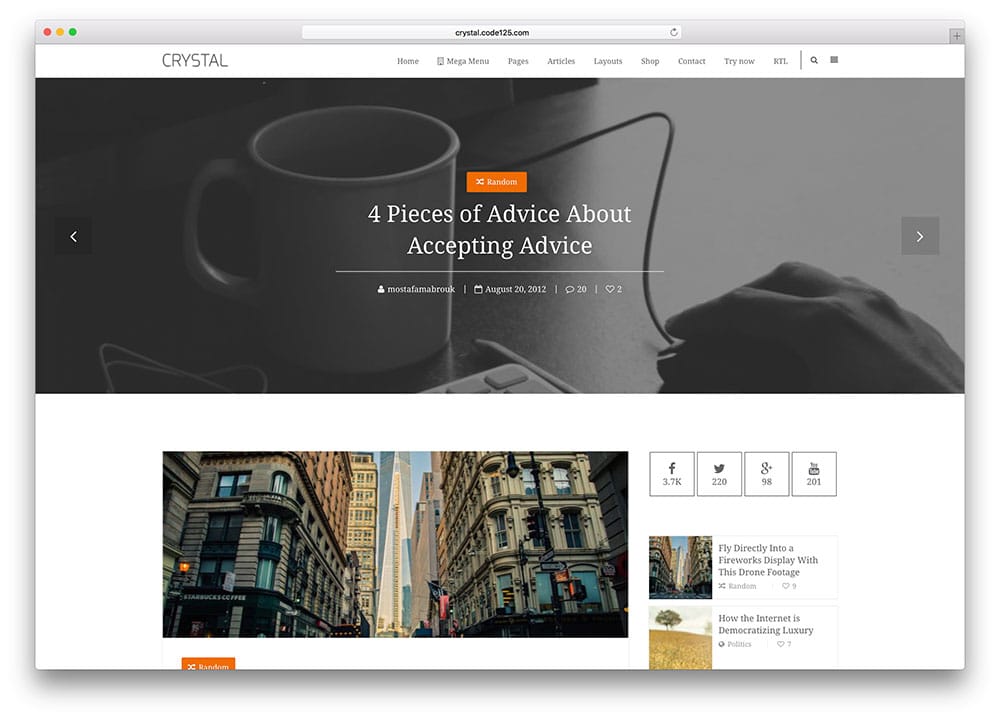 More info / DownloadWordPress Hosting
Applique
More info / DownloadWordPress Hosting
Vixen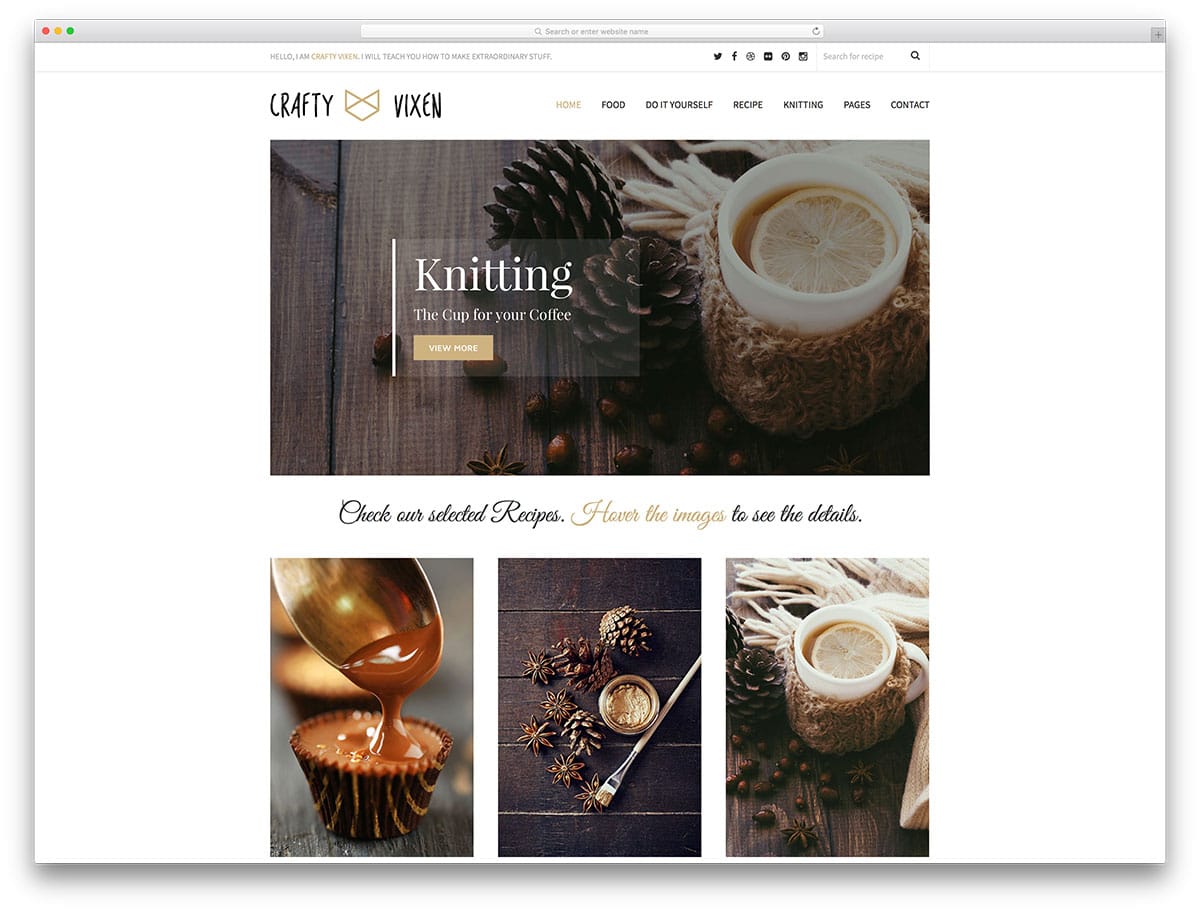 More info / DownloadWordPress Hosting
Zarja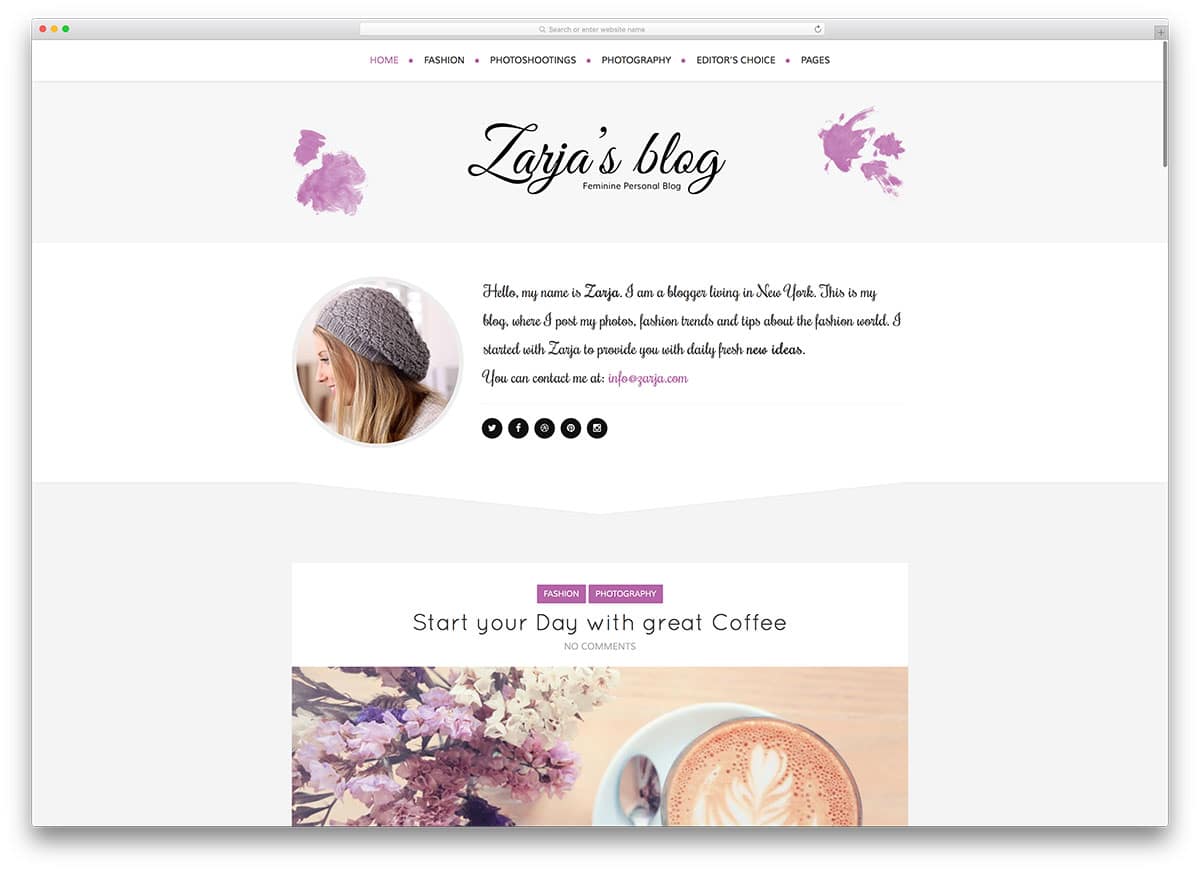 More info / DownloadWordPress Hosting
Myblog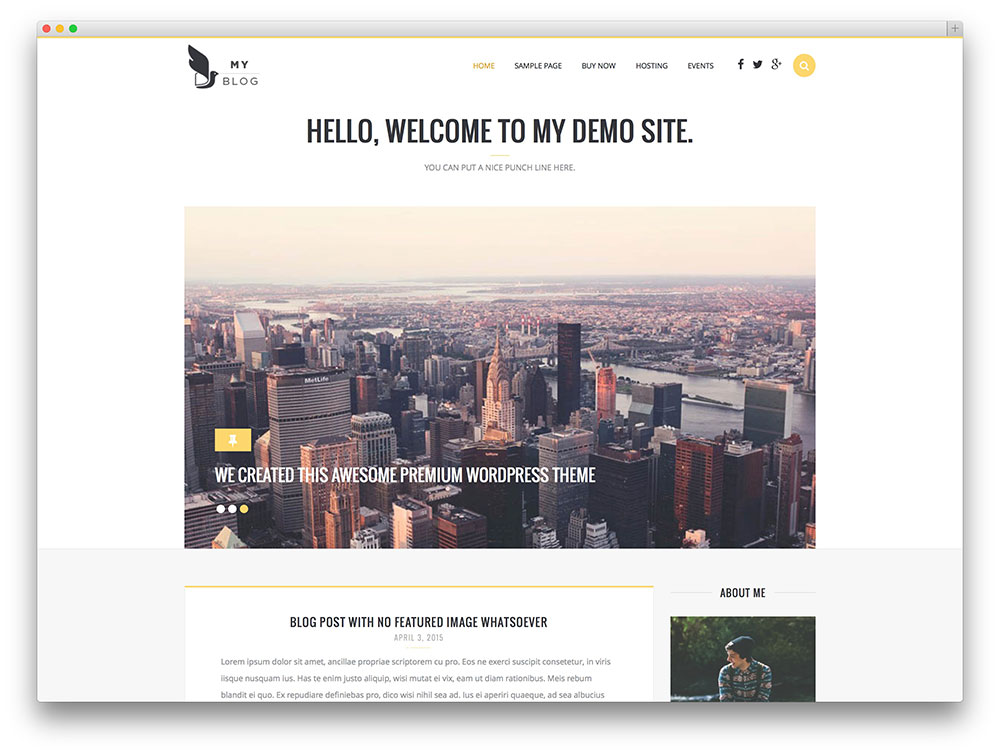 Ce thème WordPress est parfait pour les personne
More info / DownloadWordPress Hosting
Personal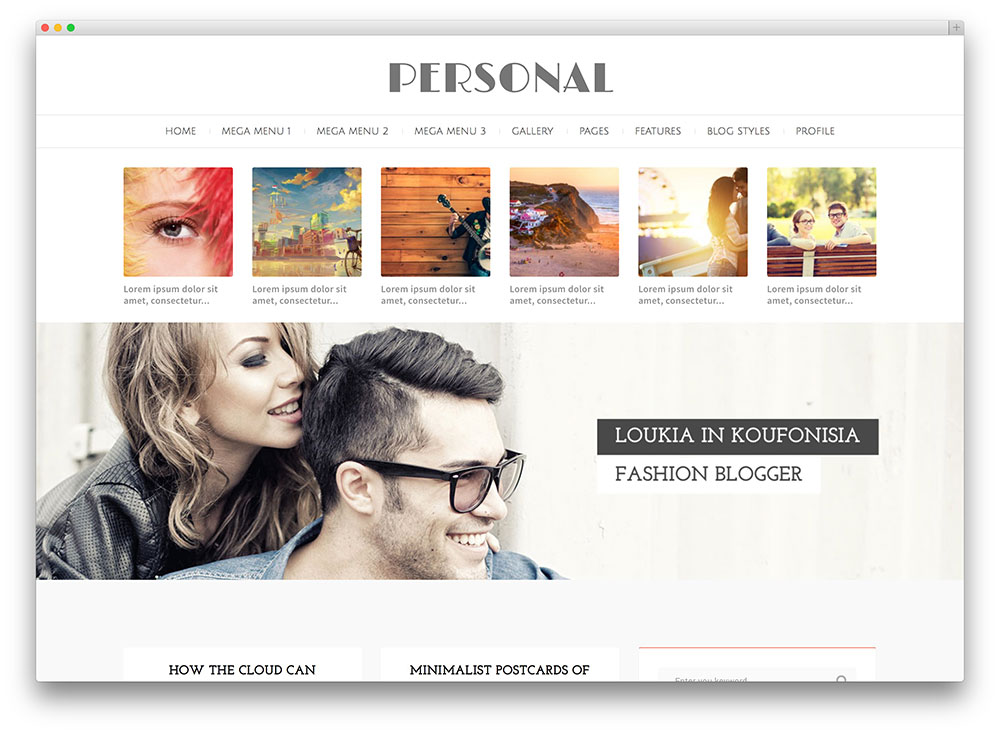 More info / DownloadWordPress Hosting
InFashion