Avada theme tutorial and review
Avada is the best-selling WordPress theme on ThemeForest. Since its release in August of 2012, Avada has generated more than 600 000 sales (that's right: more than half a million!), with an average rating of 4.77/5, making it the best-selling WordPress theme to date.
The 40 demo websites Avada offers do a great job of demonstrating that you, too, can create a similar website without having to hire a web developer or do any programming yourself. The reality is that, if this is the first time you're creating a WordPress website, you should be prepared to invest a lot of time and research in order to achieve the desired results.
With that in mind, we've tested Avada to see how easy it is to use and whether or not it lives up to its reputation.
Quel type de thème est Avada?
What type of theme is Avada?
Before we get into that, you should be aware that there are two schools of thought when it comes to WordPress theme design. The first is that themes should be designed for a specific kind of website, with minimal personalization options and limited supplemental features. The second is that themes should be versatile, with as many features, page templates, personalization parameters and options as possible so that you can build practically any kind of website with a single WordPress theme.
Avada definitely falls into the second category. The theme developers leveraged their skill and talent to create a truly multipurpose theme with no lack of features, personalization options or predesigned page layouts.
If you're interested in other multifunctional themes, we recommend reading my review regarding Divi & Divi builder.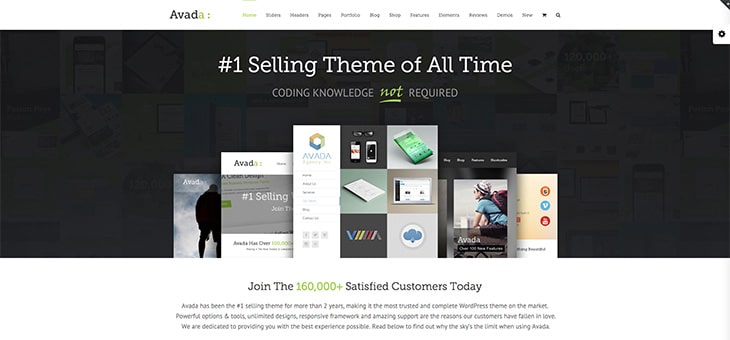 If you're looking to purchase a very flexible theme that can be modified to build any kind of website with no coding knowledge required, Avada might just be the WordPress theme for you. So here's our full examination of the Avada features.
Avada Features
Avada comes with an incredible list of features. The developers did an excellent job of expanding on the basic WordPress features to cover nearly any website scenario, making Avada a highly versatile theme.
The full list of features is way too long to include in this article, but here are the most important ones:
40 website templates that can be imported quickly and easily
A tool for creating personalized pages with a vast selection of elements
Premium high-performance plugins, including ACF Pro, Slider Revolution, ConvertPlus, LayerSlider and more
Easy-to-add image galleries of various styles
Video backgrounds for full-width containers
Side navigation (on the left or right instead of just in the header)
Ability to configure the background opacity of headers with independent widths
Customizable background colors and images for each column, article and page
Ability to blur background images and make them fade in and out as the user scrolls
Publication tool portfolio, testimonials and ratings
Built-in styles for popular plugins (WooCommerce and Gravity Forms)
Various options are available for all of the features appearing on this list.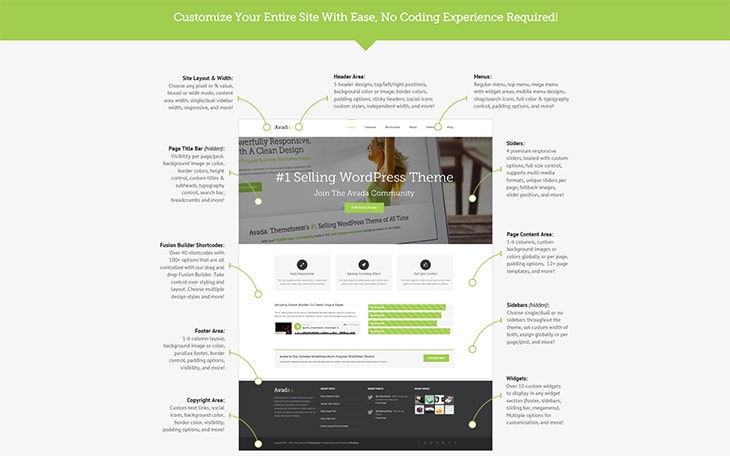 Avada demos
As mentioned previously, Avada offers you 40 demo websites of all different types, including travel websites, blogs, WooCommerce sites and more, which you can import and use as the basis for creating your own website.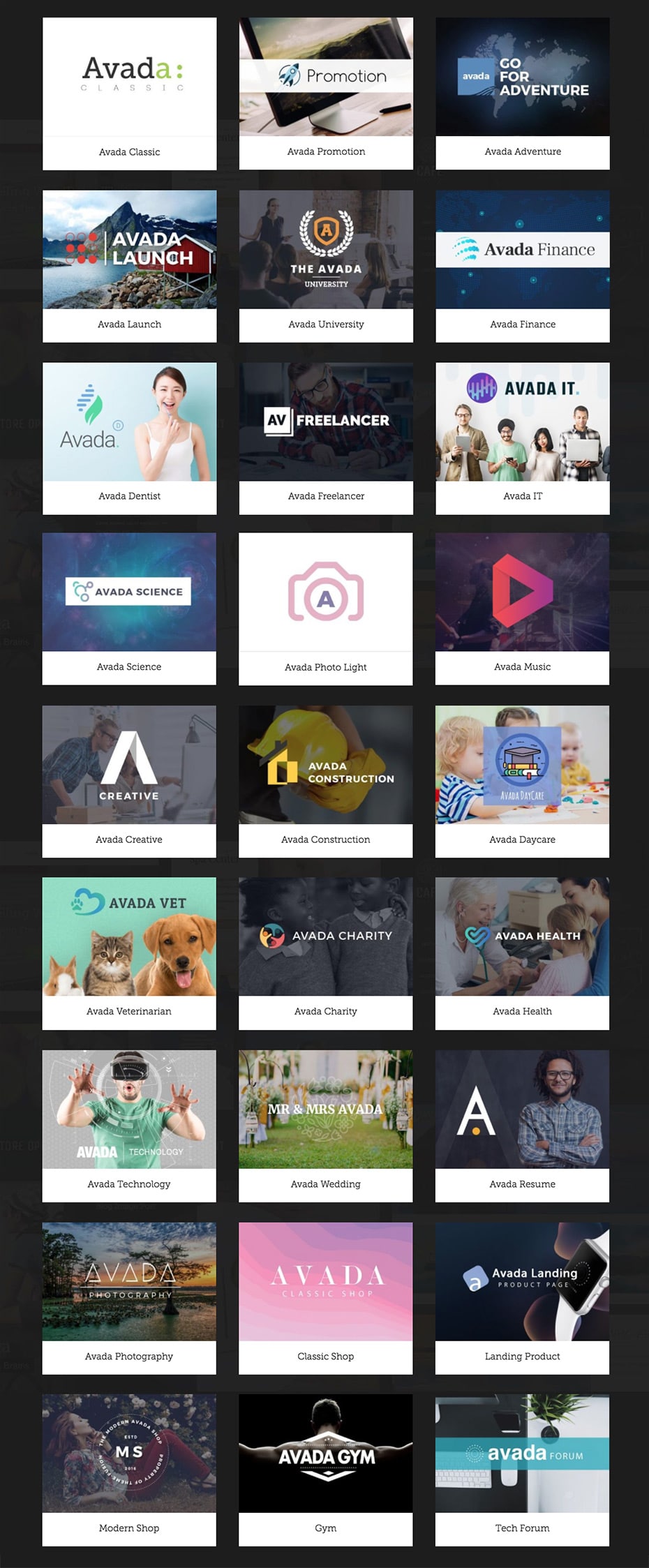 Installation and activation
Once the theme is installed, you'll immediately be prompted to install the required Fusion Core plugin, as well as the recommended paid plugins: Slider Revolution, ACF Pro, ConvertPlus, WhiteLabel and LayerSlider.
Using the required plugin installer, you can add them to your website with just a few clicks. After that, you can start working on implementing the theme.
Once the theme is activated, you'll immediately notice that it doesn't look anything like any of the Avada demo versions. You'll have several options available to achieve a design that reflects your style.
One of these options is to import all of the demo content. Another one is to recreate select individual pages from the demo version. You can implement this second option using the Fusion Builder tool. A third option is to manually copy and paste the documentation code for the pages you want to build.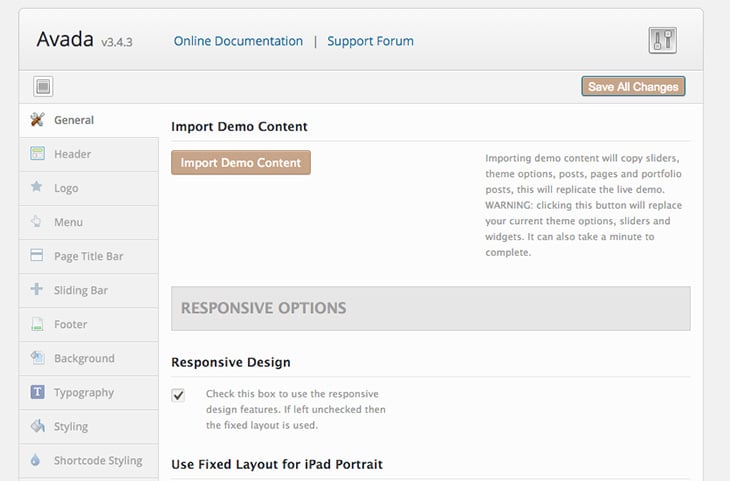 Control panel
Obviously, you won't want to use the demo exactly as it is for your own website. You'll need to access the theme option control panel to begin personalizing its appearance and features.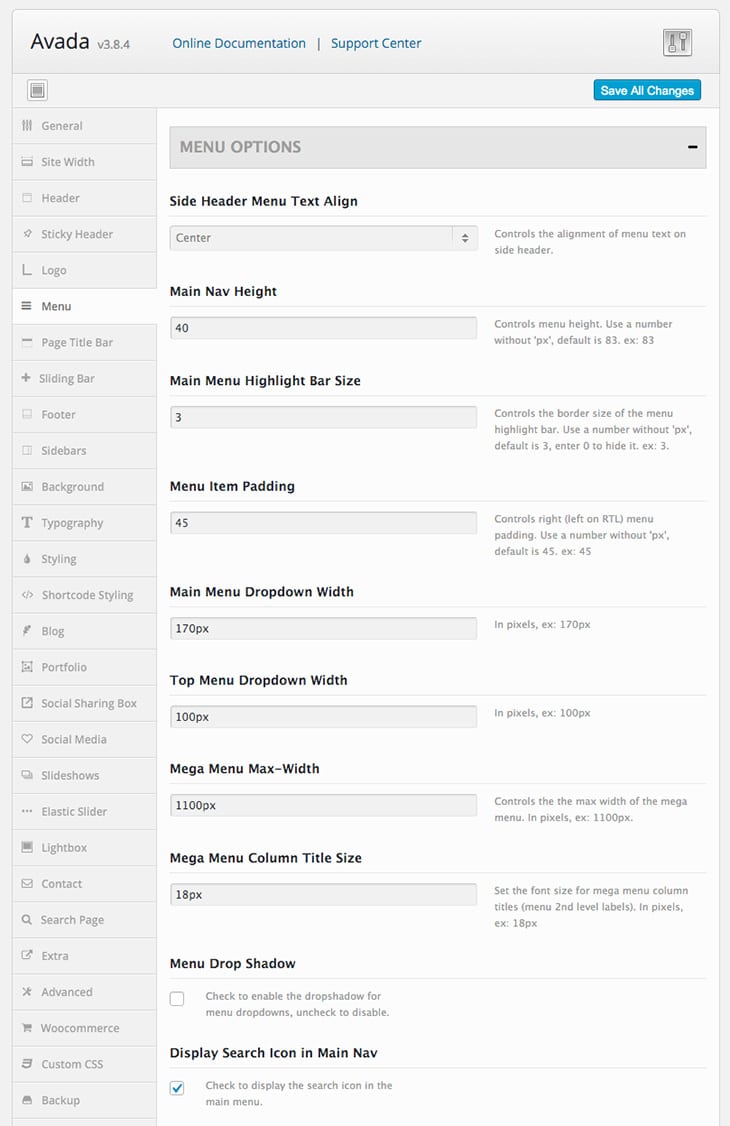 As you can see, the theme option control panel has a huge number of options. It's a lot to deal with at first, but bear in mind that, the more familiar you become with it, the more you'll understand exactly what each of these options does.
The Avada Fusion Page Buildera
Avada comes with its own content generation tool (also called a "website builder"), which can be used to create your articles and pages.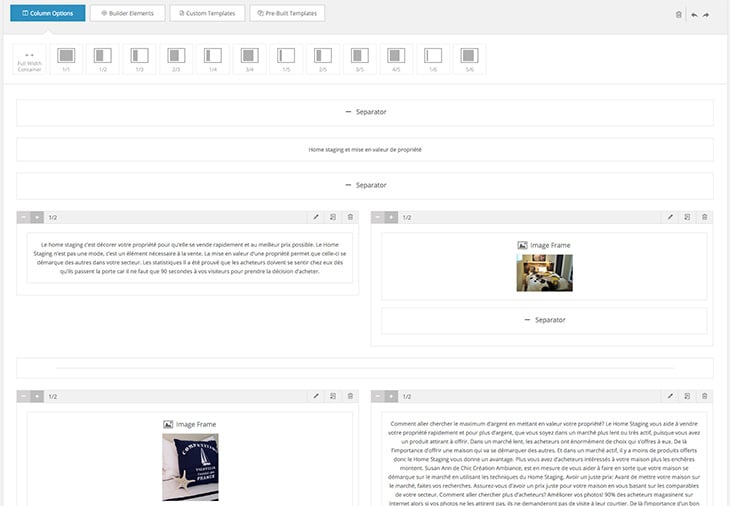 This tool has a very intuitive interface. The first step is to choose a column layout. Once you've done that, you can start filling your page with various types of content. You'll be able to insert many different elements from the builder into your page layout and then personalize them according to your needs.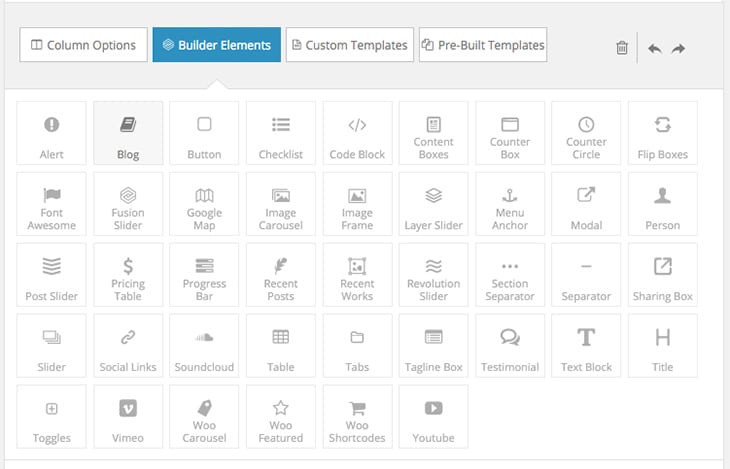 With the Fusion Builder tool, you'll be able to do a lot when it comes to your page layouts. Unlike the basic WordPress editor with its numerous constraints, the Fusion Builder tool allows you to add elements to each column and line so you can build rich pages.
While you won't have access to a live preview of the frontend visuals, you'll have no problem previewing your article or page like you would if you were using the standard WordPress theme.
In the builder, you can also save the page layouts you create so you can reuse them, or you can apply one of the available predefined page layouts.
Article and page options
With Fusion Builder, the articles and pages also have a new option panel under the main editor, allowing you to personalize their appearance and features individually.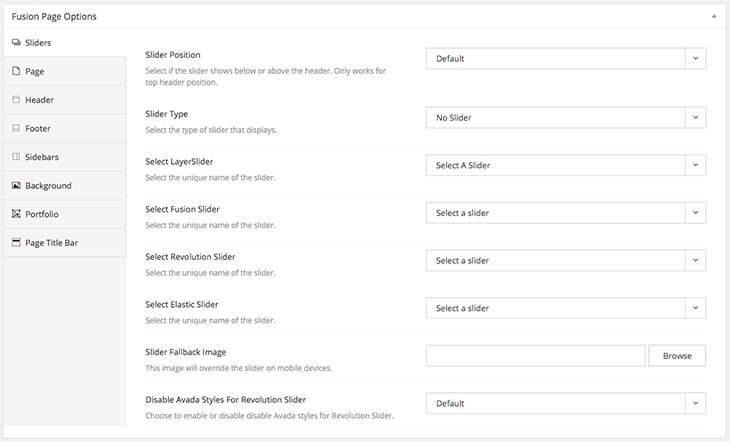 These options cover a wide range of parameters, such as adding background images, configuring the header display, determining what sidebars to use and much more.
Your selections will only apply to the individual articles or pages you're working on. This gives you a lot of flexibility with regard to the appearance of the various elements and content of your website.
Other Avada options, parameters and features
Just like the article and page options, the personalized types of articles that Avada uses—portfolios and FAQs—each have their own sets of options, not to mention their own categorization module to help you organize them more efficiently.
Avada also gives you the possibility of creating several sidebar zones, which can then be displayed on one or more pages of your website. This gives you total control over the widgets that will be displayed beside each type of content.
Besides all that, you'll have access to the premium LayerSlider WP and Revolution Slider plugins to add very interesting visuals to your homepage and other pages. Each of these plugins is valued between $18 and $19.
The downside of Avada and other versatile themes
Having so many features and tools at your disposal has the potential to encourage you to try to do too much when creating your website. Just because you can add sliders, animated effects and a whole host of other interesting elements to your articles and pages, it doesn't mean that you should. Adding too many features to your website could have a negative impact on the load times—as well as the user-friendliness—of your webpages. Adopting a minimalist approach to designing a WordPress website often proves to be a better way of doing things (depending on the results you're looking for, of course).
Naturally, this problem isn't unique to Avada; it's a problem that applies to any theme with a wealth of features.
What's more, if you're building your first WordPress website, having so many configuration options, choices in page layouts and other possibilities could end up overwhelming and discouraging you. We only recommend this theme when it isn't your very first experience with WordPress themes.
Pricing
Avada is available on ThemeForest for $60, which allows you to use the theme on a single website.
Final conclusions
Avada is a theme that's loaded with parameters, options, features and even external plugins, like LayerSlider WP and Revolution Slider. The template comes with an impressive page building tool that also offers a wide range of pre-set configurations, making the process both efficient and flexible.
One important point to consider is that, despite the documentation, the page templates and the demo content you can import, you shouldn't underestimate Avada. There are so many available options that the theme could be overwhelming for someone who's just starting out with WordPress. That's why we generally recommend this theme to web developers and graphic designers. There will be a learning curve for the first website, but once you master the theme, you'll enjoy incredible flexibility and efficiency for subsequent websites.
To get a better idea of what Avada can do for your website, visit ThemeForest and take a look at the various demos.
Ready to give it a go?
Experience the power of the Avada theme today!